What is video copy protection?
What is video copy protection?
As we known, we can't copy commercially made VHS tapes to another VCR, we can't copy protected DVD as video to disc, the same applies to making video copies. But
video copy protection
difference from can not copy, no one can do that. We just put some information into the video, like text, image, logo, etc. When people watch the video, they will find your information on playing screen, this is video copy protection.
What benefits with the protected video?
If you are movie publisher, video author, if you uploaded your video to internet like YouTube, My Space, FaceBook. I think you do not want to anyone download and copy your video and make the copyright to his, and publish to other websites.
So
video copy protection
is necessary, because you once protected your video, that malicious people can not make copyright theft with your video and movie, if someboby would like reship your video, when visitor preview your video, they are also see your copyrights in the video.
Make
video copy protection
means put watermark on video, but how to do it? Keep reading.
How to protect video to avoid unauthorized copy?
What software I need?
The first, we need software to do that, so just choose an appropriate
video watermark
software, let us learn which feature appropriate software have:
1, Allow you edit text and put it to video.
2, Allow you load your image or logo and put it to video.
3, Allow you change output video format and video quality.
4, Allow you adjust the watermark time point to make appear and disappear.
5, Easy to use.
Video Watermark
is 100% proper
video watermark software
, it have home edition(for home user) and pro editionfor professional user), allows you to embed text, image, logo, sign (include animated) to your video in batch mode. With video copy protection process,
Video Watermark
have simple operation and friendly interface, so the process of Watermarking becomes very easy, you can finish it with few clicks, it is an excellent solution to protect and annotate your video.
Download:
Home edition:
http://www.video-watermark.com/products/video-watermark.exe
Pro edition:
http://www.video-watermark.com/products/video-watermark-pro.exe
Compare Editions
After installed,
Step 1: Click '+' button to load video from your disc.
Step 2: Click 'Add Text' button to into text watermark interface.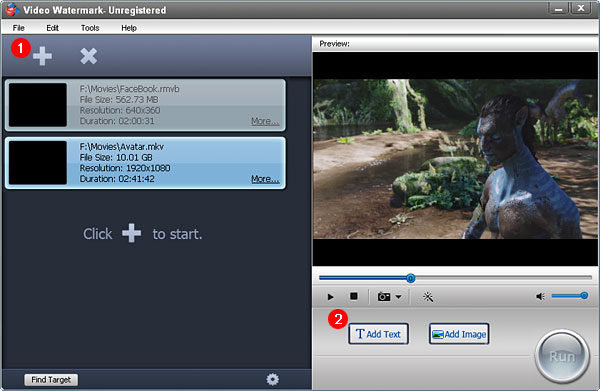 Step 3: Click the 'Add button' to create a text layer and starting text watermark.
Step 4: Type some text or symbols like © that you want.
Step 5: You can click 'Font' button to into Font Setting interface.
Step 6: You can adjust opacity and rotate your text.
Step 7: Drag your text to appropriate location.
Step 8: Click 'Ok' button to return main interface.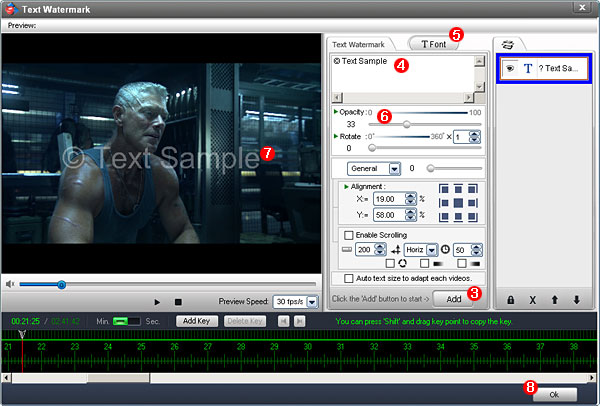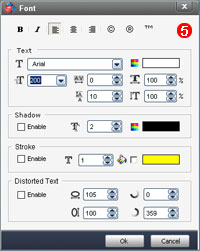 Tips: you can make some effects of text by Font settings.

Step 9: Click 'Run' button to into output interface.

Step 10: Select an output folder or keep original folder.
Step 11: Select an output video format, we have most poplar video formats includes AVI, MPEG, MP4, WMV, MKV, MOV, RM, 3GP, FLV, SWF, VCD, DVD.
Step 12: Video settings - adjust video quality, video resolution, framerate, video encoder, etc.
Step 13: Audio settings - In most, you do not need make any changes.
Step 14: Click 'Run' button to starting watermarking videos.
Tip: you can click 'Background' to minimize the window to tray icon.