In the internet, usually contains three types of watermark: photo watermark, video watermark and PDF watermark. Here we said watermark is video watermark, we also called it movie watermark. You can also click the link to learn about photo watermark.
A video watermark is a visible embedded overlay on a digital video consisting of text, a logo, or a copyright notice. The purpose of a watermark is to identify the work and discourage its unauthorized use. Though a visible watermark can't prevent unauthorized use, it makes it more difficult for those who may want to claim someone else's video or movie as their own. So many internet users like add watermark to movie to protect their movies.

Movie watermark can be a small logo or signature on an angle of the movie and throughout the all of length of the movie, can be also a big company logo on beginning of the movie. Most users will make the watermark throughout the movie, and Hollywood movie studios will display their logo at the beginning of movie. Either way, add watermark to movie is great way to promote your website or company. See samples as below.

Let us start to add watermark to your movie.
Add watermark to movie will re-encoding your movie, and the re-encoding process maybe take some changes like resolution, encoder, frame rate, sound, etc. So, backup original movie is necessary for every novice. If you would like to add watermark to many movies at once, please backup those movie first.
Next we need find proper video watermark software, google search keywords "video watermark", "movie watermark" … we can finds many software, here I recommend Video Watermark Pro, because it's real easy to use for us.
More details about Video Watermark Pro >
Download Video Watermark Pro by click button below:

After download, please install the software to your computer, and keep reading.
After downloaded, install it to your PC.
Step 1 - Launch, you will see the concision and friendly main interface.
Step 2 - Add your original video by click "+" button.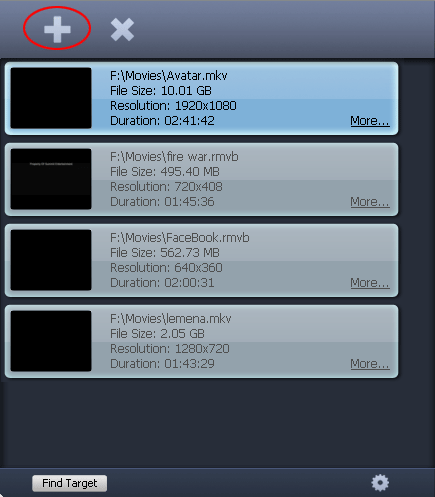 Step 3 - See the right bottom of main interface, here are three big buttons with main functions and other button such as play, stop, video effect. Here click "Add Image" button into image watermark editing.
Tip: "Run" button not available at right now because you have not made any changes.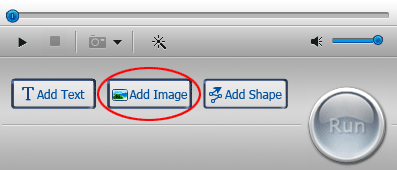 Step 4 - At
image watermark
setting interface, you will see many buttons, progress bar and options. The first you need click "Add' button create a layer to start, with this interface all of settings base on the layer.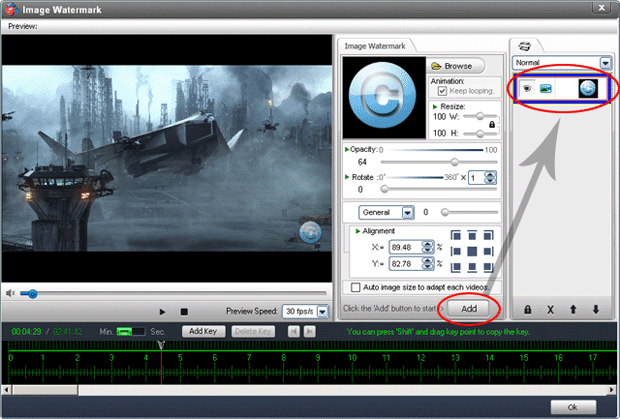 Step 5 – Click "Browse" button to open image watermark list, the software provide over 100 image watermarks you can select one from list or load your own image by click "Load Watermark".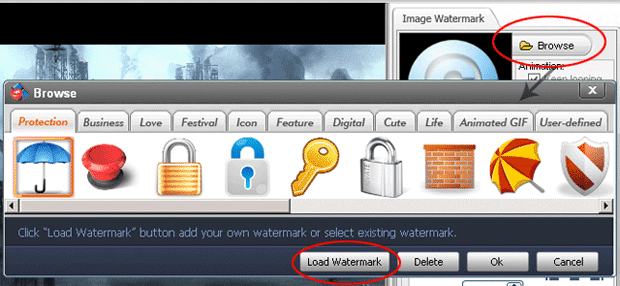 Step 6 – Make settings for your image such as resize, rotate, set opacity, alignment, etc.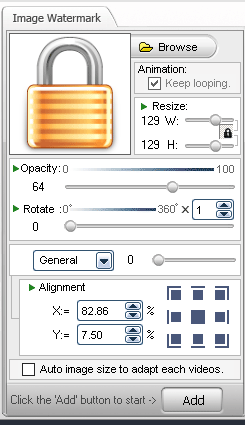 Step 7 - You can control you image appear/disappear and make animation with time line. First insert two keys, and set different parameter for the two keys, and then play the video clip between two keys, you will see the animation effect.

Step 8 - If you need batch process, please activate box of "Auto image size to adapt each videos". After done click "Ok" button to apply all of settings and back to main interface.
Step 9 – At this "Run" button is available, click it to output setting.

Step 10 – In output interface you need to four things, select output folder > select output video format and > video & audio setting (optional) > start the process of put image on video.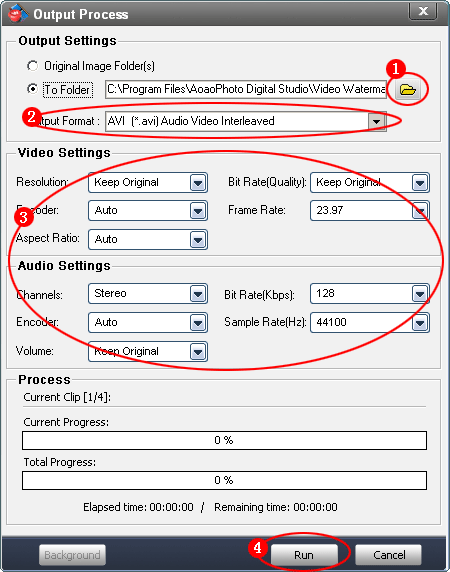 After processed the output folder will open automatically.
About the tool
Video Watermark
allows you to embed text, image, logo, sign (include animated) to your video in batch mode. It has simple operation, friendly interface and high speed process, so the processing of watermarking becomes very easy and fast.