I have heard many demands from internet, such as:
"I want to insert my picture into my video, please help…"
"How to make pictures into videos…"
"How to add something to video…"
Etc…
So I will tell everybody making pictures into video, just keep reading.
Here we said make pictures into video means put some pictures into an existing video, not make a video with many pictures, that's different two things. I think many video users would like to make changes to their videos; many users would like to make a unique video, and they are put family photo into video, put classmates' photo to video, they are also put travel pictures to video, etc. Come on, make picture into video let the video belong only to you.
In addition, you can also make an animation into video, make a products show into video, branding, signature…
How to Choose Right Tool?
To making pictures into video, the first thing is find a right windows program, because a right tool will help you do it easily and saving lot of times. But how to choose right tool, see below:
Basic function
The tool must have the basic function, its make pictures into video.
Powerful function
We also would like to the software have powerful functions, let me do other thing expediently.
Good quality
The output video quality must as same as original video, we do not want to any mass loss.
Multi formats
The tool must support all popular video formats and picture formats.
Easy to use
Now, most people like easy to use program, the smart and simple user interface will let us do it easily.
Fast Speed
No one like waiting long time for anything, so batch watermarking mode is necessary.
Cheap price
Good stuff is not cheap, but, nothing is impossible.
Soooooo, Video Watermark Pro is your want, allows you to make text, picture and shape to video in batch mode. Video Watermark Pro provides simple operation, friendly interface and high speed process, so the editing become very easy and fast. You can make pictures into video with few clicks, do not waiting long time for it.

Step 1
Load your video(s) and go to next step.
Tips: The circular "Run" button unavailable at this because you have not made any changes.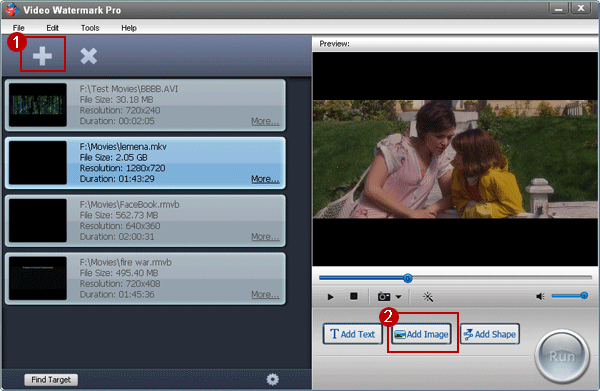 Step 2
1) You must click the "Add" button to create new layer for start.
2) Load your own image or select existing watermark.
3) Drag the watermark icon to a locality that you want.
4) Apply all of changes and back to main interface.
Tips: If you want to your image just appear in some appointed time segments, you can do it via time line setting.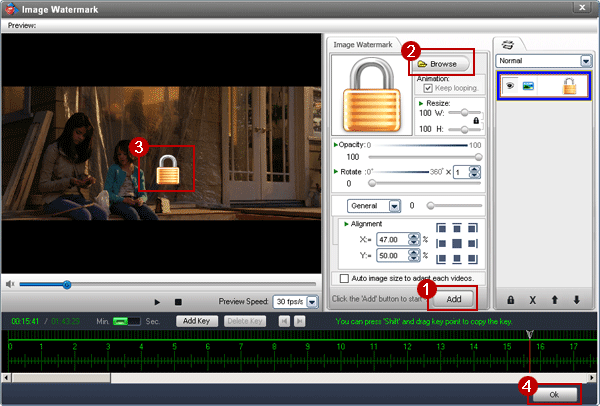 Step 3
You can preview the effect of
added image to video
in main interface. Click "Run" button to last step.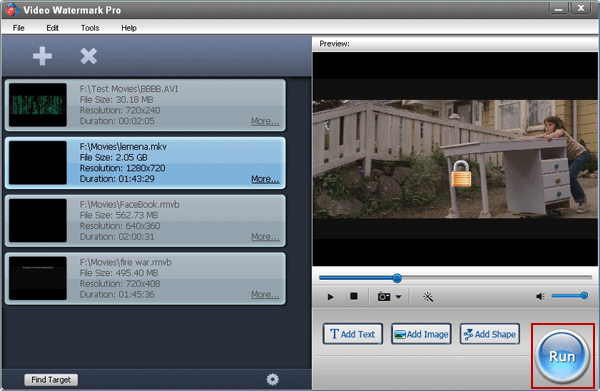 Step 4
Select output folder, select output video format and start output process. After outputting process done, software will open output folder and select object file automatically.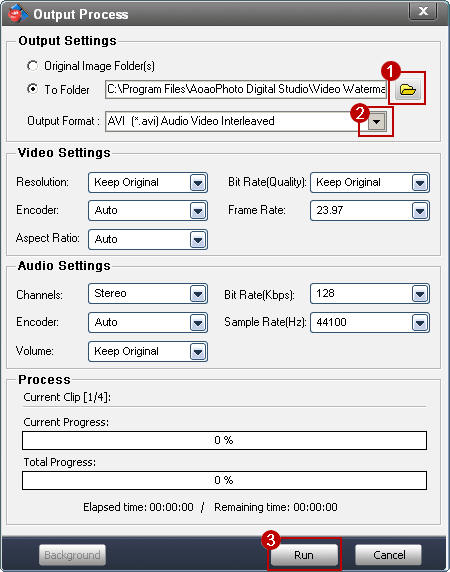 Tips: Video Watermark Pro support most popular video formats like: AVI, MPEG, MP4. WMV, 3GP, MKV, MOV, FLV, SWF, RM, etc.

About Video Watermark Pro
It is shareware price $69.95 allow you free trial, the unregistered edition will put some words on output videos. Now purchase will get 50% off price $34.95.
License key will send to you immediately via email after you bought. Registered user will get free upgrade lifetime and free technology support lifetime. Any lose license key or registration problem will getting email support within 24 hours include all of holidays.